Services from IU Health – Enterprise Clinical Research Operations
The biorepository has IRB approval to obtain and store specimens of interest to many investigators. Surgeries are the primary source of collected materials. However, blood, urine, hair, and nails can also be collected as requested. When fresh or fixed tissue is not requested, the material is flash frozen and stored at -140ºC. Fluids are stored at -80ºC. All specimens are annotated with the BTM database. Most of our collections are obtained by request of an investigator and released to the investigator based on their IRB-approved protocol. Samples are available to any investigator within and outside of the IU Health system at a nominal fee on request.
Collection and processing:
Fresh, Frozen, Formalin Fixed Tissue
Fresh or Frozen Bone, Cartilage
Whole Blood, serum, plasma
Urine
Saliva
Cerebrospinal Fluid
Synovial Fluid
Hair roots
Nail clipping
Distribution and shipping samples:
Ambient temperature
Wet Ice
Dry Ice
▶ Confidentiality
IUH ECRO Biorepository maintains patient confidentiality by using a database system, BTM, which utilizes unique patient identifiers. De-identified clinical and pathologic information may be passed along with the transport of the specimen, if requested by the investigator.
▶ Cost /Recovery Fee
The Steering committee oversees the annual costs and charges for specimen collection, storage, distribution and shipping. Payment is requested within 60 days after delivery. Fee for Service rates are the same as the IU Simon Cancer Center, which can be found here: https://cancer.iu.edu/research-trials/facilities/tissue/services.php
Please note that not all services listed on IU SCC Tissue procurement page are available at the IU Health Biorepository.
▶ Requests
Only research requests presenting approved IRB protocols will be considered.
▶ Prioritization of Work
The steering committee decides upon procedures mandating dispersal preferences as well as preference procedures for research requests within organizations providing support for the collection endeavor.
▶ Publication Acknowledgment
If research supported by the IU Health Biorepository results in publication, please acknowledge this support by including the following in your publications:
We thank the IU Health Biorepository for providing us with _______ samples used in this study.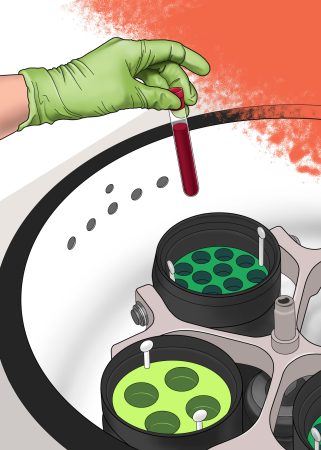 Institutional Biosafety Committee
Institutional Biosafety Committees (IBCs) are essential for institutional oversight of research that involves the use of biohazardous agents, including recombinant and/or synthetic nucleic acid molecules. The IBC ensures that research activities conducted within the Indiana Center for Biomedical Innovation are in compliance with federally mandated responsibilities and obligations as described in the following guidelines: the NIH Guidelines for Research Involving Recombinant or Synthetic Nucleic Acid Molecules, the Centers for Disease Control and Prevention (CDC) select agent guidelines, and the U.S. Department of Agriculture (USDA) select agent regulations. The IBC consists of staff and community representatives who are responsible for reviewing all research activities.
The IBC oversees biosafety policies and procedures and reviews individual research protocols for biosafety concerns. Additionally, the IBC coordinates with the IACUC when animals are used and the IRB when human subjects are involved. For research projects involving any of the activities outlined above, complete the IBC Protocol Submission Form and submit it to the committee for approval. 
The link for submission is on the form.
Research Activities Reviewed
Infectious agents (bacteria, viruses, protozoans, fungi, etc.)
Biologically derived toxins
Human and/or non-human primate blood, body fluids, cells or tissue culture
Recombinant DNA
Synthetic nucleic acid molecules
Transgenic animals, invertebrates, and/or plants
Artificial gene transfer
Prions
Dual-use technologies
Synthetic Biology
Clinical Trial Management
ICBI research scientists who initiate clinical trials have access to the IU Health Enterprise Clinical Research Operations (ECRO) group of registered nurses who manage both the administrative and clinical aspects of pharmaceutical and device research trials. They provide clinical trial coordination, from contract negotiation and IRB protocol submission to the enrollment of subjects, the collection
of data, and study close out. All ECRO nurses have a BSN degree, are CCRC-certified through the Association of Clinical Research Professionals (ACRP), and are thoroughly educated in the federal regulations and Institutional Review Board (IRB) policies relevant to protocol management of clinical trials. For corporate sponsors, these nurses can also help identify physicians within the IU Health system who are interested in research. 
ECRO is the central trial coordination center for multiple IU Health Hospital facilities. The nurses provide 24-hour, 7-day-a week coverage for trials at IU Health Methodist Hospital and also serve IU Health University, IU Health North, and IU Health Saxony Hospitals. This group has the ability to manage multi-site clinical trials throughout the IU Health system under the approval of a single IRB. 
Statewide Research 
Expand patient demographics for a more robust sample. This is particularly helpful if your protocol has restrictive inclusion/ exclusion criteria, or if you require more rare disease groups. Each site in the statewide network has an experienced research team who is intimately familiar with their region's demographics. Working with their coordinators and recruiters can help you target difficult-to-track populations.
Protocol Management Services:
Negotiate budget & legal contracts with sponsor
Assist with protocol & informed consent development
Coordinate ancillary departments
Educate caregivers on protocol requirements

 

Submit device studies to CMS for pre-approval
Recruit, educate and follow up with patients
Collect and document data
Report adverse events to sponsor & IRB
Maintain financial oversight & review billed services
Provide 24-hour accountability for clinical trials
Biomedical Communication & Creative Services
Editing  •  Graphics  •  Medical Illustration
Investigators and start-up companies at ICBI have an onsite editor and medical illustrator available for help with grant and patent applications, promotional projects and graphics. We offer investigators grant writing help to establish a compelling case to justify funding and to highlight how the research project fits into the mission of the funding agency. Throughout the process, editing services are also provided to ensure clean submissions. 
With an advanced education in life sciences and visual communication, the medical illustrator works closely with scientists and physicians to produce visual materials to supplement and clarify grant applications and manuscripts. Images can range from simple diagrams created to explain a process to more complex illustrations that show anatomical relationships or surgical procedures. We consult with investigators to develop the right visual solution for each project.
Biostatistics & Data Services
Biostatistics & Data Services offers a full range of statistical consulting services for all phases of a research project, including the planning of the initial study, the design of experiments, and the consideration of sample size and power analysis. Statistical modeling, data analysis, and statistical interpretation further help investigators efficiently gather the information needed to develop valid
conclusions. This division is also equipped to offer services for acquiring, collecting, and maintaining data for registries and select research projects. We have provided statistical consultation on projects in several areas, including the basic science laboratories, pharmacy, emergency department, cardiology, neurophysiology, and IU Health Medical Quality.